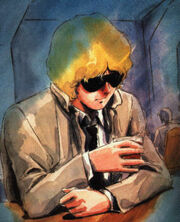 An unstable and young adult who got in the Hell few years before Earl break out of there. He was one of the most promising warriors, only if he was more stable. He currently works for theHellknights, mostly as an engineer and weapon maintenance. He is one of the few who use primarily a figher instead of a HMV, though it does turn into a combat mech, the Grey Falcon.
Ad blocker interference detected!
Wikia is a free-to-use site that makes money from advertising. We have a modified experience for viewers using ad blockers

Wikia is not accessible if you've made further modifications. Remove the custom ad blocker rule(s) and the page will load as expected.